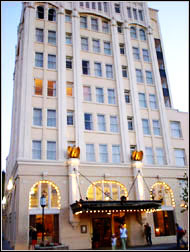 A Western Hotel in
Ashland, Oregon
In 1925 the dream was realized to build a grand hotel on the slope of the Siskiyou Mountains that would compare favorably with the hotels in the East. This exquisite hotel was then called Lithia Springs Hotel and opened with an elegant dinner for over 500 VIP guests who had traveled great distances to marvel at the tallest building between San Francisco and Portland. Ashland Oregon was a natural destination, both for it's location as a stop over point for travelers on their way to Portland and Seattle but also for it's breathtaking mountain park, mineral rich springs and Chautauqua series of lectures which featured such noted speakers as Susan B. Anthony.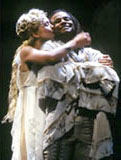 Today, it is the Oregon Shakespearean Festival that attracts visitors and the grand landmark, now Ashland Springs Hotel welcomes visitors to relive the enchantment of a past era. Ashland Springs Hotel is listed on the National Register of Historic Places. Here you will enjoy everything Ashland has become as a cultural center of arts and entertainment and a bastion of refreshment and tranquility. The theme and spirit of Ashland is reflected in the hotel's collections of art and botanicals and its grand architecture, panoramic views of the Rogue Valley, and superb service, enjoyed by travelers who discover Ashland as their destination.
Recently featured in Architectural Digest, The Ashland Springs Hotel has received accolades for it's original features as well as an incredible renovation, which authentically restored to hotel to former splendor. In 1998 Doug and Becky Neuman purchased what was then known as The Mark Anthony Hotel. This gothic beaux-art style hotel, had been closed and abandoned and was in desperate need of restoration. Restoration experts Candra Scott and Richard Anderson were called to create interiors and WestCoast Hospitality was hired as the management team. The results are a hotel with un-surpassed elegance and luxury associated with another time.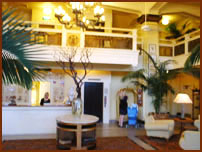 From the moment you enter the light filled two-story lobby you will discover unique collections in antique cases that revolve around the theme of love, romance and nature. There are old love letters displayed and a bird and egg collection, many of these birds also found in a collection of bird etchings decorating the halls of the hotel. The walls of the hotel are graced with a botanical collection from Paris, with dried florals pressed between glass and described in Latin.
Upon entering your room you will find every sense will be pampered from the scent of lavender sachet you can later use in a lavender bath to crisp white linens, light quilted feather down blankets, full length mirrors on the antique doors and spectacular views of the valley.
Every detail has been attended to, from the custom Axminster wool carpets, custom made in England, to the soft colors used on the walls and on the upholstery, inspired by the original stained glass windows in the lobby. In the Elfinwood Banquet space, there are also impressive collectibles including a Bavarian Antler Collection intermingled with English Transfer ware create a dramatic display and focal point to the high ceilings within the room. This grand banquet room is accented with unique period furnishings such as a Parisian Art Deco Bar accented with lamps with antique lampshades hailing from the famed New York club El Morocco.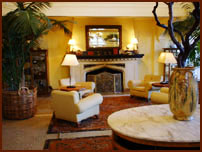 You will enjoy a continental Breakfast, served on the Mezzanine level where with floor to ceiling windows and an excellent view of the lobby, one can people watch while reading the morning paper and enjoying fresh coffee, berry filled muffins, whole grain cereal, eggs, fruit and juice selections. Later at Bulls Eye Bistro, the hotel restaurant, you will be served excellent food in a setting complete with vintage game collections of Carom Boards, Chinese Checkers, DartBoards and an Antique Slot Machine.
This is a wedding location destination, where a large botanical patio garden and gazebo can host large weddings with an adjacent ballroom and dance floor where guests are served from Gothic Antique Bars. Here the couple can return on anniversaries and experience moonlit evenings with Shakespeare under the stars. In the classic movie "Somewhere in time" Christopher Reeves plays Richard Collier, a modern play write who travels back in time to 1910 to fall in love with Shakespearean actress Elise McKenna played by Jane Seymour. In a reviting scene, he is torn back to his time and away from his true love when he pulls a penny from 1989 out of his pocket and is reminded he was from another time.
At the Ashland Springs Hotel, there are few things to distract you from reliving a gracious age of grandeur and at the same time experiencing one of the most culturally edifying destinations in the Country.
Reflections from the writer...
Twenty years ago, I walked through Lythia Park, an enchanting mountain park with a rushing creek running through the middle of its gardens, meadows and playgrounds. Time spent here with friends was precious. We were young and our children were small and they spent hours wading in the creek near a vintage stone bridge that hinted of the park history. Twenty years ago, I called this paradise home and one day while sitting at the mineral fountain spring, I was captivated by a little old lady Rose who spoke to me of Ashland past.

Rose spoke of the 1920's when people came to Ashland to rejuvenate in Lithium rich mineral baths and gather in this little mountain Mecca to celebrate the beauty of nature, family, friendship and good health. She told me about the opening of the, then Lithia Springs Hotel and travelers coming from great distances to marvel a grandest hotel in the Pacific Northwest. There were band concerts in the park and grand parties. It was a romantic era and I relived it through her eyes while we sat at the fountain. At that time, the hotel had fallen on bad times and its luster had faded.

Upon my return twenty years later, much has changed. Beautifu Rose has long since passed away and those little feet that I once dipped in Lithia Creek are now grown and stand with tiny feet beside theirs that belong to my grandchildren. The magic that draws visitors to Ashland remains the same and that once grand and shining landmark that rose high on the hill overlooking the Rogue Valley has been restored to her former glory as The Ashland Springs Hotel.