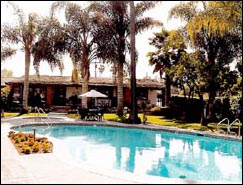 Early California Hacienda Style
Bed & Breakfast
San Juan Capistrano
At the gateway to the Gold Coast is where our journey to begins as it did hundreds of years ago. It is here that the Native American Acjachemen people lived as hunters and gatherers when the Spanish arrived. This lovely and peaceful retreat is set amidst a two hundred year old Orange Grove and it's Mission style rooms feature high wood beamed ceilings and bright country linens. The pool and patio gardens serve as a relaxing place to enjoy your continental breakfast while you may wish to savor your afternoon sherry fireside in the guests lobby.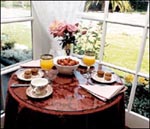 Innkeepers Droze Kern and Joey Brashier, make guests feel warmly welcomed and at home. They also will help direct you to all that lay in store, all within blocks of Mission Inn, including The Mission San Juan Capistrano, Los Rios District, Camino Real Playhouse, the Capistrano Depot, The San Juan Capistrano Library, The Aquilar Adobe (filled with Native American Artifacts). This is also the spot from which to venture out as you cover the other major attractions such as Disneyland, thirty minutes north on the 5 Fwy and the attractions to the South such as Legoland, Sea World, and the San Diego Zoo. Just make sure you leave several days to just soak in this historic mission town, now a cultural center.
The Mission
The Mission San Juan Capistrano known as "The Jewel of the Missions is one of the top three attractions in Southern California drawing visitors from all over the world to roam it's lush gardens and glean it's rich history. There is a spirit here of timeless tranquility that has made the Mission a healing retreat for the faint of heart as well as a place of celebration and a cultural center of the arts. The Mission, just as it was 200 years ago, is the center of the community hosting year round activities such as concert series, festivals, art and educational exhibits and annual events celebrating the return of the beloved Swallows of Capistrano.
The Swallows make their annual migration to this their native nesting ground every March and stay until October when they return to Argentina. Every year on March 19th, Saint Joseph's Day, the Swallows return and the Mission hosts grand celebrations lasting two weeks and culminating with The Swallows Day Parade put on by The Fiesta Association and generous sponsors. This home grown parade is the largest non-motorized parade in the Country and gives attendee's a glimpse into the old wild west and life in early California.
Just across from The Capistrano Depot is Los Rios Street, said to be the oldest residential street in the Country, with over 200 year old adobes, shops, galleries and Jone's mini-farm, a children's paradise, where they can ride ponies, pet bunnies and guinea pigs and ride a little train.
Several minutes up Ortega Hwy is the Oaks Blenheim Rancho Mission Viejo Riding Park where spring and summer show jumping events bring exhilarating jumping competition to the park with attractions for the whole family. The Capistrano Summer Festival not only features show jumping but also x-treme sports demo's, kids pony rides, face painting and concert entertainment.
Mission Winery located across the street from the Mission in Mission Promenade, offers excellent wine selections for tasting and special group wine tasting tours. Later you can dance the night away at Swallows Inn, the local's favorite hideout. This classic cowboy/biker bar rocks with the hottest blues, country and country rock bands anywhere or maybe it is more your style to finish off your evening listening to music while patio dining at one of the local restaurants. Capistrano Depot, Cedar Creek Inn, Café Mozart and L'Hirondelle all offer patio dining within walking distance to Mission Inn.

Walnut Grove, a landmark restaurant stands next to Mission Inn with it's antique car parked in front. This large diner style restaurant is a local's favorite serving yummy traditional comfort food and featuring homemade triple decker coconut cake and fresh baked cinnamon rolls and cookies. Say hello to owners Ben and Sharon Newhart who welcome patrons with warmth and country hospitality. Another excellent local's favorite is Molly's Famous Café where people come from miles around to experience their big country breakfasts and delicious country style cooking. Phil and Georgia Kelly make your experience at Molly's very special.
After having explored San Juan Capistrano while staying at Mission Inn in the atmosphere of Old California, you may wish to move on to enjoy the surf and sand at our next destination in Dana Point.
For a map of the area visit www.sjc.net/keepermap.